Empowering Women and Girls: How Seva Canada's Mission Goes Beyond Eye Care
Seva Canada is a Vancouver-based charitable organization whose mission is to restore sight and prevent blindness in developing countries, and the winner of our inaugural #iATSInnovator Award. A Seva team is currently working in Bahir Dar, Ethiopia, visiting a secondary eye hospital, Felege Hiwot Hospital, and the communities it supports. While Seva's mission is focused on eye care, a large part of their efforts are devoted to gender equity. The world's blind are predicted to increase from today's 36 million to 115 million by 2050 if access to treatment is not improved and increased through better funding. The majority of the 115 million will be women and girls.
Microfinance: Women at the heart of community engagement
Seva Canada's Equal Right to Sight campaign aims to eliminate the current disparity in eye care where women and girls make up the majority of the world's blind. This Thursday, October 11 is International Day of the Girl, and International World Sight Day, making it an important day for the Seva team. Here in Ethiopia, a vital component of Seva's strategy to reach women and girls with eye care includes working with existing microfinance programs. Seva and their partner in Africa, KCCO (the Kilimanjaro Centre for Community Ophthalmology), understand that eye care programs need to engage with community-based economic and social development activities. Without this engagement, programs remain expensive and short-lived.
As a result, Seva and KCCO have established a program utilizing microfinance groups to empower women to improve the health of women and girls. Seva uses existing microfinance groups, of which there are thousands across eastern Africa, as a tool to find women and girls in need of care and connecting them to the available eye care services. Microfinance members are taught simple eye health information like eye conditions, treatment options, and ways to spread this information within their communities. They are then asked to refer patients to outreach screening activities occurring in their area. At the outreach screenings patients are examined and those requiring care are transported to the eye hospital for cataract surgery. Patients are also provided glasses and are treated for eye diseases like trachoma, the leading infectious cause of preventable blindness.
Seva Canada's success in eye care and empowerment
Microfinance programs are proving to be extremely valuable in empowering women. Seva's programs have resulted in:
Providing women with additional income, often translating into social capital.
Giving higher status to the women within their villages, and a network of like-minded, similarly driven women.
Women in microfinance groups are some of the most empowered in their communities, from both an educational and financial standpoint.
Seva believes that microfinance groups provide a powerful forum for educating women. By linking eye care into their broader economic empowerment, the groups provide a significant gain to the prevention of blindness in Africa, and Seva's initiatives help women and girls overcome some of the barriers to accessing eye care. In helping women and girls get the eye care they need and deserve, and creating strong links between communities and eye care providers, Seva is helping to ensure that more women will be able to see now and into the future.
Seva's work in Ethiopia

Since expanding to Ethiopia in 2014, Seva has been able to significantly increase the number of women and girls who receive eye care.
Number of people helped in Bahir Dar, Ethiopia in 2016-17:
21,375 people examined (49% women) compared to 1,678 the previous year
739 cataract surgeries performed (43% women) compared to 132 the previous year
Number of people helped in Bahir Dar, Ethiopia in 2017-18:
20,179 people examined (50% women)
590 cataract surgeries performed (47% women)


Meeting the microfinance group in Adet, Ethiopia
Yesterday, the Seva team had the opportunity to meet the microfinance group outside Bahir Dar. The group has 35 women all living in the area, and all were trained to identify eye disease. Women often join the group because they have family members and loved ones in need of eye care and who may not have easy access to care. It is the women's hope that their involvement will provide their families with an opportunity for care. Nearly all of the 35 women members were present today to show their gratitude, provide feedback, and meet the Seva and KCCO teams. The women range in age, and some carry their babies on their backs as they enter the hall within the District Office in Adet, a rural village outside of Bahir Dar.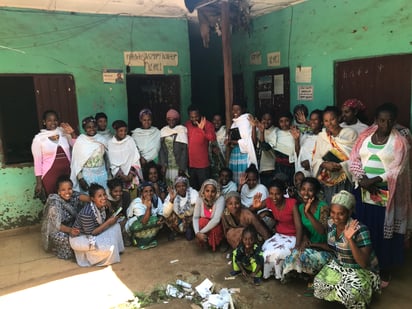 The microfinance group meets the Seva Canada team in Adet, Ethiopia.
The town has little infrastructure, and the nearest hospital to this community is in Bahir Dar. People identified at the screening in need of eye care, such as cataract surgery, are transported to the hospital's eye unit. These people, too poor and scared to travel to the hospital, would remain blind without the outreach screenings and transportation.
One woman, Simegn Bitew, told the Seva team her story of joining the microfinance team after being cured of treatable blindness herself. The woman, 26 years old, was blind in both eyes from the age of 18-23, from a disease called Trachoma. Trachoma is a disease of poverty, and is carried by flies, which transfer bacteria from animal waste to the eyes. The bacteria can eventually develop an infection, and if not treated leads to blindness. Simegn became aware of the possibility of surgery from announcements over a loud speaker in her town market. She eventually travelled 50km/31 miles by public transport with the help of her mother to receive the surgery. She says she thought she would be "blind forever", but after having her sight restored by a local ophthalmologist funded by Seva Canada, she is very relieved and grateful.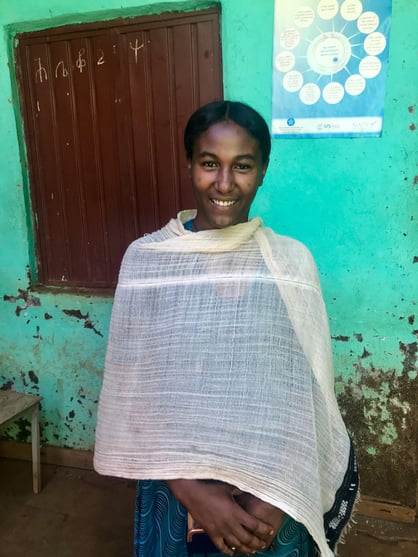 Simegn Bitew, 26, was blind from the age of 18-23, but had her sight restored with help from Seva Canada. She is now a member of the microfinance group and helps other women receive eye care.
Simegn joined the microfinance group to help support herself and her twin babies that she gave birth to, just two months ago. Now, she has basic eye care knowledge, and is able to inform other women in her community about the assistance available. She says she has faced resistance from women who don't believe they could ever regain their sight. However, by telling them of her own experience, and how her life was restored after surgery, she is able recruit them to visit the outreach screenings. She says she looks forward to when the women she recruits are cured of their blindness, and the work she has done with the microfinance group will bring her great pride. By establishing the microfinance group, Seva Canada is able to not only able to assist in eye care, but empower women and girls to be active members of their community
iATS is Supporting Seva's Equal Right to Sight Campaign
The iATS Innovator Award has enabled collaboration between the iATS and Seva Canada to assist in the support of Seva's mission, and particularly the Equal Right to Sight campaign. This week, our Content Marketing Specialist, I am travelling in Ethiopia with Seva Canada. Yesterday's visit to meet the microfinance group left a lasting impression on me. Being close in age to Simegn, I felt particularly impacted by her story and saw how Seva's work gave this woman a life she could not have without her sight. I can see how this woman's story will also have a lasting impact on her community, as her own experiences will encourage more women to seek assistance and feel less intimidated by treatment.
Seva Canada (seva.ca) is a charitable organization that restores sight and prevents blindness in developing countries. Since 1982, Seva has given over 4 million people the power of sight through life-changing surgeries and provided eye care services including glasses and medicine to millions more.
Seva works with local partners to create sustainable eye care programs that achieve long-term change, are culturally sensitive and reach those most in need – women, children and people living in extreme poverty and isolation. https://www.seva.ca/
Statistics provided by Seva Canada.
Photos taken by Katie Tatham.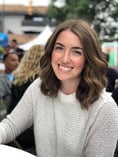 Written by Katie Tatham, Content Marketing Specialist at iATS Payments. This year, Katie spearheaded the first annual iATS Innovator Awards, recognizing inspiring achievements in nonprofit technology and fundraising. Katie and the iATS team were thrilled to announce Seva as the winner of the award earlier this year.
Katie is a passionate writer and enjoys helping nonprofits tell their inspiring stories, and sharing them within the nonprofit and technology sectors. When she is not writing, she spends her time cooking, or outside hiking and playing field hockey.