An Outsider's First Look into International Development


Having worked for iATS for the last 2.5 years, spoken to countless nonprofit clients, and volunteered close to home, I feel that I have a pretty good sense of how the nonprofit community functions. I've witnessed the challenges nonprofits face and been involved at many levels, from fundraising reconciliations to merchant account set-up, to interviews with CEO's and event organizers. However, even being immersed in the nonprofit community as I have, I've never experienced the balancing required in international development. This week in Ethiopia with Seva Canada has given me a unique look into how one organization manages helping to provide eye care in developing countries, while ensuring the success of the programs even once their involvement is complete.
It being my first time in Africa, I have never so strongly experienced the feeling of being a spectacle as a white visitor. That feeling is constant here in Bahir Dar, a smaller city with some tourism but not many white foreigners. Locals gather around us in the street just out of curiosity, children asking for money, and there is a sense that we must be able give them something. This is especially prevalent in terms of medicine. This week, while in the field or in the local hospital, I had many people ask me to look at their eyes and provide medical advice. Even when there is a local doctor present, they prefer care from a white person. They don't know that my medical knowledge is slim to none, and I certainly shouldn't be diagnosing their eye care needs. This must be frustrating for the local doctors whose years of training are discounted for the word of white person with a camera.
Seva Canada's Approach to International Development.
Seva Canada's mission considers the effects of visiting developing countries, and supporting their existing systems when serving its mission. Rather than send Western doctors to developing countries, Seva prefers to support the local medical system through partnerships. Seva Canada's Executive Director, Penny Lyons, states, "We don't send doctors over to do surgeries, we train locals to do their own surgery. We send some professionals over to train, but never to do. That builds the local capacity and ensures the eye care program will exist and succeed long after Seva's involvement is complete." The model is successful, with 766 people screened for eye care at a rural outreach screening on Wednesday, all by local medical personnel. At the outreach screening patients are examined and those requiring care are transported to the eye hospital for cataract or trichiasis surgery. These people, too poor and scared to travel to the hospital, would remain blind without the outreach screenings and transportation.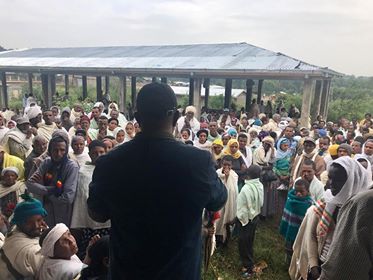 People wait to receive eye care at an outreach screening in Adet, Ethiopia. 766 people were screened, all by local medical personnel.
At the screenings, Seva is looking for ways it can support the local eye care providers' work, rather than telling them how it should be done. "Seva Canada believes that our job isn't to tell local partners how to do their job. Our job is to give them the support they need to do the job they already know how to do," Lyons says. "We don't make demands about who they treat, how they treat, or when they treat. We simply support them in their work because we understand that they know best how to treat their own population."
Investing in people and lasting partnerships.
The doctors Seva supports are clearly committed to the people they serve. Dr. Hiwot, an ophthalmologist from Felege Hiwot Hospital in Bahir Dar, worked with the Seva team this week and demonstrated her dedication to the people of Ethiopia. She is an excellent doctor, and her team didn't rest on Wednesday until all 766 of the patients at the screening were seen. This year, Seva Canada and the Kilimanjaro Centre for Community Ophthalmology (KCCO), Seva's partner in Africa, paid for Dr. Hiwot to receive glaucoma training in Nepal. As one of two ophthalmologists in the public health system for the 8 million people in the Bahir Dar area, providing additional training for local doctors in an important part of providing care to the region. Having seen Dr. Hiwot and the eye care team's work, Seva Canada can certainly return to Canada with a message to their donors that their money is being well spent.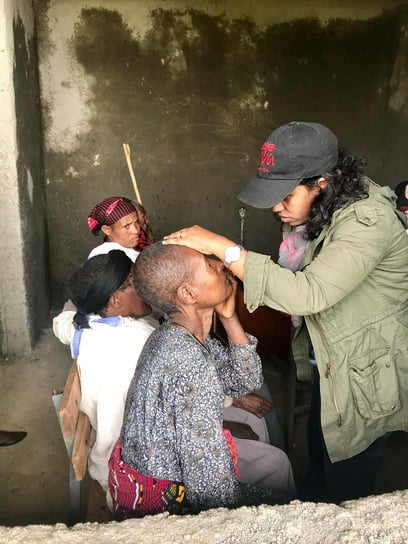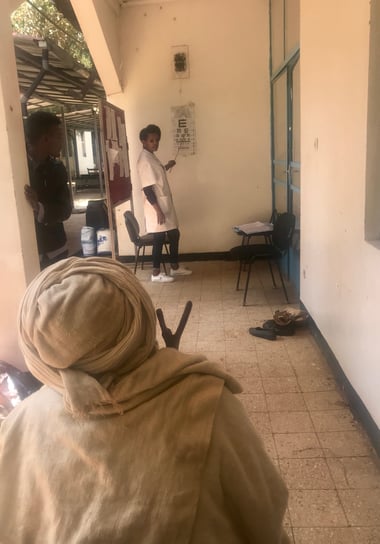 Left, Dr. Hiwot examines a woman's eyes at the outreach screening in Adet. Right, a man receives a visual acuity test at Felege Hiwot hospital in Bahir Dar.
The challenge in international development lies in improving an existing system, and ensuring it has the tools to be successful long-term, rather than temporarily patching a hole. Seva also does this with the help of partner, KCCO. Seva relies heavily on the expertise of KCCO to recommend where funding should be distributed and where Seva should invest. "Because they are on the ground, in Moshi, Tanzania, they have a better understanding and a greater knowledge of the work that is being done in eye care in Africa," Lyons says. By working with and supporting local partners, Seva can not only gather the correct information to make development decisions, but can also bring that information back to local donors to generate more funding.
Providing prospective and establishing a foundation.
The last few days have certainly given me a new perspective, and some culture shock. I will never have to walk for four hours to have my eyes checked, as one man I met this week did, nor do I have to worry about clean water. However, my first glimpse into international development provides a strong sense of hope for the work done in developing countries by organizations like Seva Canada. While my knowledge on development is still narrow, the training, partnerships and infrastructure established here in Ethiopia appear to be the foundation for success in the future.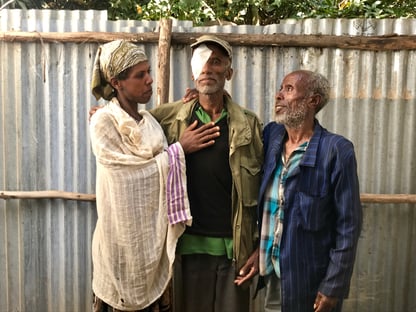 A man who walked four hours to the outreach screening, prepares for cataract surgery, accompanied by his brother and daughter.
Seva Canada (seva.ca) is a charitable organization that restores sight and prevents blindness in developing countries. Since 1982, Seva has given over 4 million people the power of sight through life-changing surgeries and provided eye care services including glasses and medicine to millions more.
Seva works with local partners to create sustainable eye care programs that achieve long-term change, are culturally sensitive and reach those most in need – women, children and people living in extreme poverty and isolation. https://www.seva.ca/

Photos by Katie Tatham.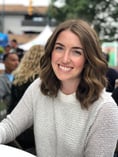 Written by Katie Tatham, Content Marketing Specialist at iATS Payments. This year, Katie spearheaded the first annual iATS Innovator Awards, recognizing inspiring achievements in nonprofit technology and fundraising. Katie and the iATS team were thrilled to announce Seva as the winner of the award earlier this year.
Katie is a passionate writer and enjoys helping nonprofits tell their inspiring stories, and sharing them within the nonprofit and technology sectors. When she is not writing, she spends her time cooking, or outside hiking and playing field hockey.